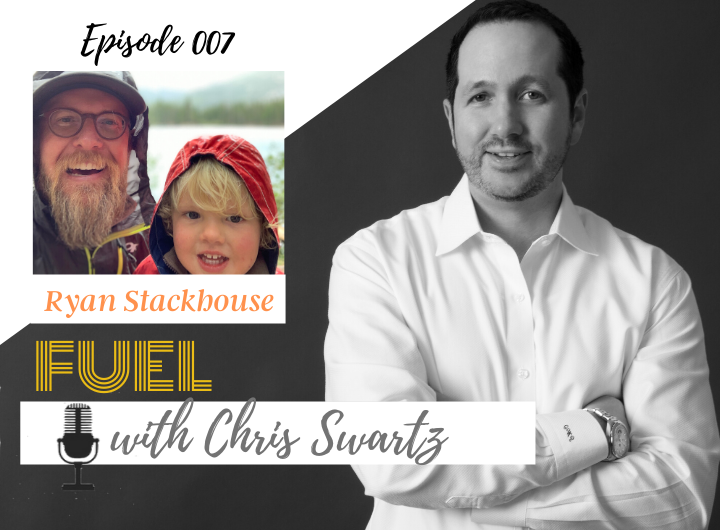 ---
This Episode Brought to You By:
Listen on Your Favorite Platform
In episode 7, Chris welcomes Ryan Stackhouse.
Directly from Ryan: My earliest start in real estate involved working beside my Dad, who was a general contractor and builder in northern Indiana, where I grew up and was raised. My Dad taught me the value of improving property, realizing value gains from building from the ground up and developing a lot, and renovating an entire project. I worked with my Dad starting when I was 14 years old and continued through college in the summers when I was home.
I began in real estate myself as a mortgage broker in 2002 and have been in the residential lending profession up to today as a non producing branch manager. That start led me to investing in real estate as I was doing loans for other investors and studying their behaviors.
I bought my first single family home in 2006 and still own that home to this day. I have since acquired 200+ doors and we currently own 143 at this point in time. I have always bought value add properties and used my capital or equity capital to renovate and improve the assets. This value add model has helped me to grow my real estate portfolio in a safe but fairly rapid manner. We have been able to reposition equity to get better and better returns over time.
In 2016, I had a portfolio of 28 doors in the single family and small multi family space. I then began analyzing the equity in our properties to make sure we were getting the most return for the equity that we had. I found that I could be better utilizing that equity if I sold some single family and other residential property to acquire larger multi family assets. I then proceeded to sell 6 residential properties to acquire this subject property 24 door apartment complex, and then a 44 door apartment complex later that same year. This property is currently my crown achievement with regard to gains and improvement. We completely remodeled the entire complex from inside every unit, to the outside of the building, fencing, signage, etc. We completely overhauled it, raised rents over $200 per unit, lowered our operating costs with great management, increased curb appeal and tenant appeal, and then we started looking at refinancing to hold long term, which is where we are now.
When presented with challenges, I have found that having an exceptional team around me is the key to my success. I am very blessed to have an excellent management group that handles all the multi family assets that we own, and they have increased the value and cash flow substantially on this and other properties that we own. I have also found that living a frugal lifestyle with experiences at our core for fundamental value system has helped us to avoid lifestyle spending creep. We live modestly and intend to continue to do that for the future.
My goals for the future are such: To acquire a portfolio of 1000 doors in the next 5 years, to help others to reach their goals by educating and helping, and to continue to analyze our portfolio of real estate to make sure we are getting the best returns and opportunities possible. I'm extremely passionate about commercial real estate and really enjoy the process of finding an asset, improving the asset, creating safe and affordable housing for the tenant base, and then using that asset to acquire more great assets. Every property we own is one that I'm proud to be a part of and I'm proud that we present clean, safe, affordable housing to the market.
My highest and best goal achieved: I travel full-time with my family now and get to spend my time with them, all the time. My life is definitely surrounded around them. I'm happy to have the freedom to see the world and be there for my family. Life is very good!
Connect with Ryan
HIGHLIGHTS
1:00 Ryan Stackhouse introduction.
3:40 Is the mortgage industry a grind? Ryan answers.
5:00 Residential real estate on steroids.
6:15 Ryan's "why".
11:00 What drives Ryan to take action?
14:50 Ryan's last real estate purchases.
17:40 Where did Ryan start his real estate purchases?
20:50 "I am still the same guy that grew up in a small town in Indiana."
21:35 What is Ryan concerned with now?
22:50 What does Ryan's life look like right now?
25:28 Ryan's real estate purchasing system in a nutshell.
28:27 RAPID FIRE!!!